Omron introduced its first industrial mobile robot product line, the LD platform on Jan 20, 2016. Omron mobile robots provide a new level of efficiency and cost savings when it comes to moving goods around large facilities. This unique family of mobile robots was developed for rapid, reliable materials transport 24/7, and can self-navigate in even the most dynamic environments.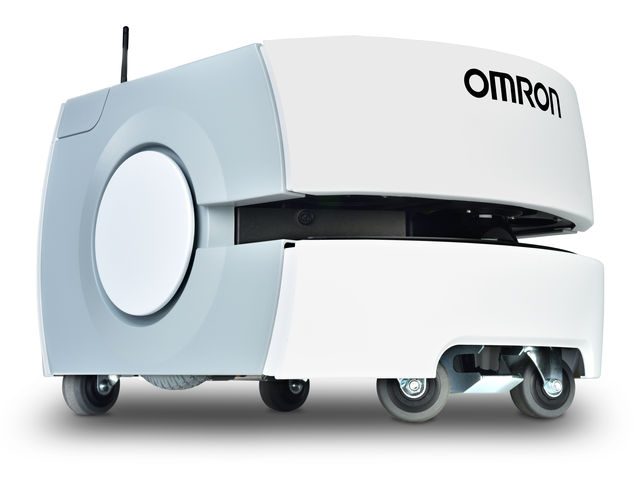 Ideal for conveying goods throughout warehouses, distribution centers and manufacturing facilities, LD mobile robot platform have a payload capacity up to 287lb (130KG), depending on the model. Compared to traditional AGVs, Omron mobile robots can self-navigate entirely based on the natural features of the facility. No costly and time consuming infrastructure modifications are necessary, so no need for floor magnets, tapes or laser beacons typically associated with classic AGV deployment. Flexible factory layout can be achieved as delivery points can be easily modified for the mobile robots. Omron mobile robots also complement traditional automation, such as conveyors, and provide traceable movement of goods.
Equipped with patented Acuity technology, Omron mobile robots have robust self-navigation system even where there's constant movement of people, pallets, carts and forklifts, and shelves being emptied and restocked. They're equipped with the on-board intelligence to avoid obstacles and choose the best path to complete a task. This intelligent movement also makes them safe to operate alongside people as collaborative machines. Up to 100 vehicles can form a fleet and be centrally managed by a fleet manager which can interact with the factory or warehouse management software such as MES or WMS.
In addition to an LD OEM series which is designed for end user or system integrator to add application specific payload top, included in the release is LD Cart Transporter, which is an automated material handling solution designed to move carts. The Cart Transporter includes an automatic engagement device and is able to adjust its approach path to automatically engage the cart. This makes the Cart Transporter an ideal solution to provide line-side replenishment for assembly line or for e-commerce order fulfillment in a distribution center.
Omron Adept Technology, Inc.
Omron Adept is the largest U.S.-based manufacturer of industrial robots. We are a global, leading provider of intelligent vision-guided robotics systems, autonomous mobile robot solutions, and services that enable customers to achieve precision, speed, quality and productivity in their assembly, materials handling and packaging processes.
About Omron Automation
Headquartered in Kyoto, Japan, OMRON Corporation is a multi-billion-dollar, diversified company with business units producing industrial automation products, electronic components, healthcare equipment and ticketing systems. Omron Automation is a global leader providing complete automation solutions for industrial applications. In 2016, they acquired Adept Technologies robots and Delta Tau Data Systems precision motion control to expand the existing footprint in industrial automation and machine safety markets.